StaxUP Storage Murrieta Customer Appreciation Day
The sweet, melty, crispity-crunch delicacy that many consider to be a staple of any campsite or bonfire event made an appearance at the StaxUP Storage Customer Appreciation Day on August 10, 2018. The event featured s'mores, other desserts, and a prize raffle as a thank you to all the customers at StaxUP Storage - Murrieta. The manager of the Murrieta facility, said that the event went from 2:00 p.m. to 5:00 p.m. with many customers showing up to take advantage of the surprising treats.
"I actually had a really nice turnout! It was scattered though, so people would just show up throughout the day. Our office was completely filled up twice!" they said.
Since everyone likes something a little different, StaxUP Storage - Murrieta made sure to have plenty of desserts in addition to s'mores to choose from. There was a platter full of chocolate chip, sugar, and M&M cookies, along with a cherry chip cake with a cool whip frosting. Some tenants were so excited for the event that, after they stopped by, they came back later with their kids to enjoy the event to its fullest.
"I even had mini-smores for the kids and some games too!" they said. "We made the s'mores on an electric s'more maker I bought from amazon. You plug it into the wall and it has a little thing in the middle where you hold the marshmallow over and it toasts it."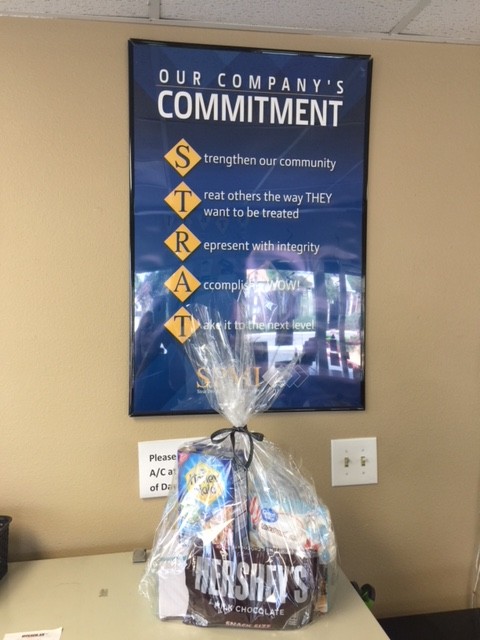 To add to the already decadent nature of the s'more, StaxUP Storage - Murrieta proudly stated that they not only had Hershey chocolate bars for making s'mores, but also Reese's Peanut Butter cups!
Toward the end of the event they held a raffle for a gift basket that was put together that included a new s'mores kit like the one used that day, marshmallows, chocolate, and graham crackers. With so many delicious confections ready for the taking, by the end of the day most of the desserts had been devoured.
They were overjoyed that the customer appreciation day was a hit amongst the customer and their families. At StaxUP Storage our managers are committed to providing a storage experience to their customers like none other. When we asked why they thought it was important to have an event like this, their answer was genuine and to-the-point.
"We think it's wonderful to be able to give back to our customers. We appreciate them so much for storing their stuff here, and we just want to thank them."
Since the team at StaxUP Storage - Murrieta love giving back to their customers and having events, they are planning another one that is right around the corner! The Yard Sale will be happening September 15, 2018, 7:00 a.m. to 3:00 p.m. and will be a great time to shop, sell, and visit with everyone at the facility! The doors at StaxUP Storage - Murrieta are always open during business hours, and they are always up for "s'more" fun!