StaxUP Storage in Murrieta, California: Food and Clothing Drive Follow Up
To the self storage professionals at StaxUP Storage, giving back to the community is just another part of the job. Teresa Kohutek, Manager at StaxUP Storage in Murrieta, California recently wrapped up a food and clothing donation drive that her facility has been hosting since October.
"The drive went really well. As a matter of fact, I had a lot of tenants bring in different things and then Emily and myself topped it off. For the first food drive we've ever done, it turned out really nice," Teresa said.
StaxUP Storage in Murrieta raised clothing donations for Second Hand Treasures and food donations for St. Martha's Food Pantry. The food pantry feeds 540 families in the area on Wednesdays and Thursdays. Registered families are encouraged to stop by the food pantry and pick up a basket of food on these days. Teresa and Assistant Manager, Emilie Freitas, were able to take a tour of the food pantry when dropping off their donation.
"To see the amount of work that goes into them preparing just to give food away, I was overwhelmed. It was just so generous and they were so nice and so gracious to us," Teresa said. "I told Emily, 'What are we going to do? Because this is not going to be it for us!' We want to help out."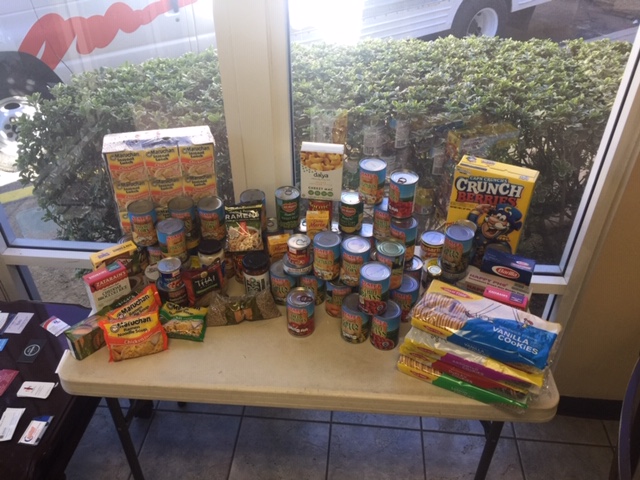 This is the first year that StaxUP Storage in Murrieta has put on a community-driven food and clothing drive. Before this though, Teresa saw a need at her facility that led her to start thinking about how she could help recycle the goods she saw being brought to (and left in) the self storage facility.
"We have so many tenants that leave items behind or can't take things with them and we just put them in the dumpster. I thought, 'We need to find an avenue for that. It's not fair,' I reached out to Second Hand Treasures and they said that they would absolutely love to partner with us. I got really involved with the ladies and they suggested that we get involved with the food pantry," Teresa said. "That's when I got involved with the food pantry and I told them we are going to do a drive for them. They were so happy."
The overall success of the food and clothing drive at StaxUP Storage in Murrieta was due to a combination of many factors including Teresa and Emily's infectious enthusiasm for the drive and the fact that it was a great time to solicit clothing and material donations.
"It was the perfect time for the clothing drive, because it was school time and people were donating their wardrobe. We got so much clothing and shoes. We even got toys. We got a lot of canned food, a lot of cereal. Everybody was just bringing us all kinds of stuff," Teresa said. "If you think about it, when people are moving and they're putting their stuff in storage and we tell them we don't store food here, they need a place to dump it, and I had a few tenants go, 'Ok! You can have everything in my kitchen!'"
Helping out and being helped at the same time is a great feeling. Teresa and Emily want their tenants and the community to know that they are grateful for their generosity.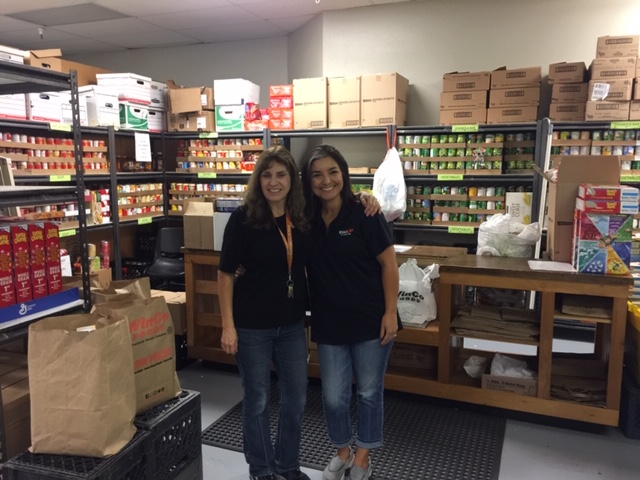 "The whole event was super heartfelt and I want to express to my tenants how grateful we are for their donations. I told them to make sure they follow us on Facebook because you guys will be posting some pictures, so they can see the end result," Teresa said. "I talked with a lot of my customers and they are just happy we do things like that. They said they had never heard of a storage facility doing any of the things we do here. I think we're one of a kind."
Even though the entirety of StaxUP Storage portfolio is launching into the Strat Gifts of Love donation drive during the coming months, Teresa is already thinking of ideas for next year's food and clothing drive.

"I would really like to put the word out more. I have signs hanging around my facility, but I really want to reach out to my tenants if I see them come in or maybe send them out a nice email," Teresa said.
We hope everyone who participated in this food and clothing drive feels good knowing their donation is doing so much to help those in need! Developing strong bonds with the communities we serve is essential to providing quality service. It is our pleasure to enrich the lives of our self storage professionals and encourage them to not only be great Managers but great people too.