Self Storage Milestone: Happy 1st Anniversary to Teresa Kohutek!
Here at StaxUP Storage we know our success is due to our wonderful team. The care they give our customers is unparalleled and we want to highlight their milestones along the way. Below is an interview with Teresa Kohutek, who is celebrating her 1st anniversary with StaxUP Storage.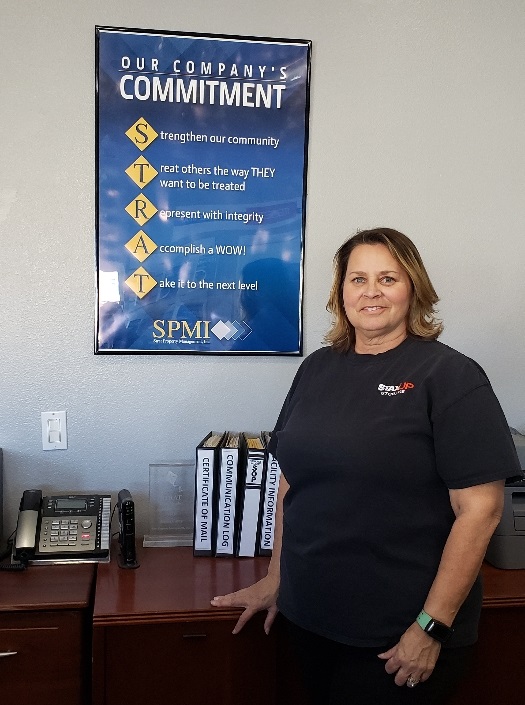 Teresa works at StaxUP Storage in Murrieta, CA as the facility's Manager, and at StaxUP Storage in Homeland, CA each Thursday.
Jodie: Hi, Teresa. Thank you so much for doing this interview! How many years are we celebrating?
Teresa: My one year was January 2nd.
Jodie: Congratulations!
Teresa: Thank you.
Jodie: What were you doing before StaxUP Storage?
Teresa: I was working at Enterprise Car Rental before at the Ontario Airport.
Jodie: Okay, so it was more like the car rental business instead of the property management business?
Teresa: Yes, Ma'am.
Jodie: Why did you decide to change?
Teresa: The reason I changed was because I bought a house in Canyon Lake and the commute was awful, so this was closer. I got very lucky though, this is a great job. I was very lucky!
---
"She definitely stays on task. You can give her something to do and she makes sure it's done immediately and correctly. She is very good at time management. She keeps track of her time and everything throughout the day, so anything she has to do herself gets done. It isn't left for somebody else to do the following day."
Alisha Carey, StaxUP Storage in Homeland, CA
---
Jodie: That makes sense. Can you tell me some of the similarities between the two jobs?
Teresa: They are actually quite similar. They are both in customer service. Making sure the customers are renting, and they are happy, just the interaction with customers.
Jodie: Ok, that makes sense. Was there anything about self storage in general that surprised you once you started working in the industry?
Teresa: That surprised me? I guess actually, the team. The team really surprises me. Everyday they are so kind and generous. They are all so kind.
Jodie: That is so nice!
Teresa: They are all so dang sweet!
Jodie: That's really nice! What do you think is the most important thing you've learned since you started working there with those sweet people.
Teresa: I've actually learned this company likes to give back a lot. This company gives back with the events that we have. It just seems like we give back a lot, and it's really nice to be part of that. I feel like they do so much in the community. With Strat Gifts of Love and our Halloween event, this was my first time, so this was a lot of fun. At my personal facility, we do a food drive and clothing drive, so it's kind of nice to go and donate the food and clothing.
---
"She was my manager and she is great. She became a manager right before I did, so she taught me everything she learned, which was so cool. She is always so nice. She does things for people. She does food drives and if someone is out sick she sets up a calendar for when people can sign up to take dinner to their family. She always brings donuts. She is really fun at work. She makes ordinary things a lot more fun!"
Nick Clarkson, StaxUP Storage in Sun City, CA
---
Jodie: That's a great point. What advice would you give to someone who is interested in working in self storage?
Teresa: I would advise them to brush up on their Excel skills. I'm joking, Alisha is laughing, but it's true. Just remember to be kind. You want to remember to make sure they leave happier than when they got to you. It's true. Some people are frantically moving out (of their residence) for one reason or another and it's important to be kind to one another.
Jodie: Fantastic! I know you've already given a shout out to your team, but is there anyone you'd like to give a shout-out to for this last year.
Teresa: Alisha would be one. Seriously, since the day I walked into her office to interview she's been a rockstar!
Jodie: That's awesome! Well you guys seem like you are really happy! Moving on, do you personally have any hobbies?
Teresa: I personally do have several hobbies. We like to go boating, so we go boating often. I'm currently learning how to play golf, so I can play with my husband and I also like to walk.
Jodie: Neat. Where do you go boating just out of curiosity?
Teresa: We live on Canyon Lake, so we go out on Canyon Lake.
Jodie: That's cool. Do you live right on the lake?
Teresa: No, we don't live right on the lake, but it the lake community. So yes! We have a boat, and a golf cart, and we like to cruise around the community.
---
"I have worked with Teresa Kohutek for a little over a year and she absolutely one of the best employees I have ever had the opportunity to work with!! She is very knowledgeable and is always willing to help out at any facility when needed. Teresa always comes to work with a pleasant and positive attitude!! She is very kind and caring, she has even brought Team Members treats at each facility on her days off. Teresa has the greatest "STRATITUDE" always gives a 100% in all that she does and to whomever she helps! Thanks Teresa for all that you do and congratulations on your 1 year anniversary!"
Becky Avila, StaxUp Storage in Menifee, CA
---
Jodie: Well Teresa, that sounds like it would be a great company party right there.
Teresa: I know. That must be why I always host the parties.
Jodie: I bet that keeps you busy, especially on warm weather days. Other than that, around the facility, what kind of restaurants do you like to go to?
Teresa: Around my facility, I like to go over to Carnitas Express. When I'm over here in Homeland I like Corkey's, I love that little place! The girls and I go over there for lunch some days.